Happy Saturday, lovelies!  
One of the greatest things about friends is how they bring out the better sides of us. I've been a lazy blogger–neglecting this space. But when I was approached about hosting Edmond on my blog–how could I say no? Edmond's one of my favorite people, and his Lost and Founds series is a spectacular experience–a modern monomyth exploring humanity, spirituality, sexuality, and the grace we all seek, whether from religion, from art, or perhaps most importantly, from each other.  So, I didn't just say yes to Edmond's visit, I also decided I needed to be better about blogging, and rejuvenate this space a little. What better way to kick off this resolution than with Edmond's guest post? I hope you all enjoy his post about the costumes of Burning Man–which happens to be the setting for his new Lost and Founds novel, King John. To enter Edmond's giveaway, please click on the Rafflecopter link at the end of the post.

Welcome, Edmond!
xoxo,
V
Best Burning Man Costumes EVAH
Vanessa North is one of the more stylish people I know. I love seeing her new hair colors, her latest fashion, how she chooses to refresh herself and her look. So, of course, when I considered blogging for her, I wanted to celebrate fashion, specifically costumes: the gorgeous creations we wear to express ourselves, or express a part of ourselves that does not see daylight often enough.
Burning Man invites the outlandish, the stylish, the over-the-top costumes you might find at New Orleans' Mardi Gras or Rio's Carnival. One of the most impressive things about these costumes is realizing the wearers had to drag them to the middle of the freakin' desert. Burners go to Burning Man to live for roughly a week. They must bring in their own water, their own food, and their own shade (if they hope to be out of the killer desert sun).
And their own costumes.
Multiple costumes, if they want to wear something different once in a while.
In this spirit of admiration for desert pageantry, let's gawk at the strange, the slightly terrifying, and the truly inventive, and delight in humanity's creative, adventurous spirit.
#1 First up, put your hands together for the Mad Maxers.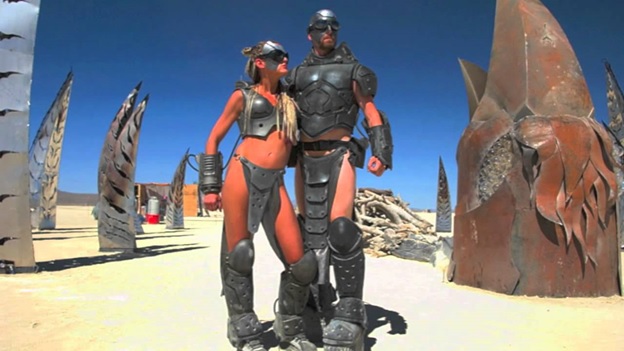 There are a number of costumes at Burning Man that seem like they could come straight from a Mad Max movie. In King John, narrator Vin Vanbly describes them this way: "I invented a word for all the burners who look like extras from a Mad Max movie. I call them Maxers. Old clothes, creatively wrapped scarves protecting body parts from the sun, water pouches, crusty handkerchiefs wrapped around their hands. Appearing both futuristic and dirt-poor."
Okay, these two don't look dirt poor. They are part of the overlord class. They whip the sad sacks who just wanted a glass of refreshing water.
In deliberate striking contrast to the serious Maxers, let's enjoy the insane frivolity of this…thing.
#2 Ball Guy or Ball Girl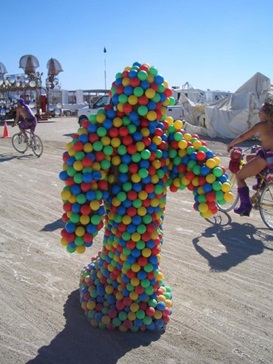 Who is this person? Can he or she see? How on earth did they transport this thing into the desert? We could ask those questions, but I don't think this thing has a mouth to answer. Oh, darn. Well, nod as it passes by you, and keep walking.
#3 Sparkle Ponies!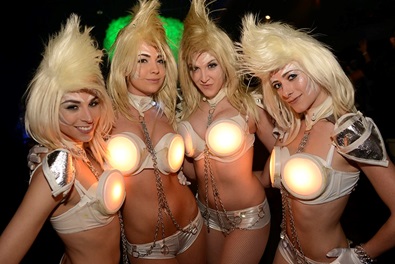 Sparkle Ponies are the equivalent of Sexy Nurse at Halloween. (or Sexy Cat) These are the hot young chicks who do their best to show off their best. Sparkle ponies like boob-accentuating costumes. Butt-accentuating costumes. Glitter is not always involved, but let's face it: It often is.
#4 Look! It's an alien…alien…whatever the hell this thing is.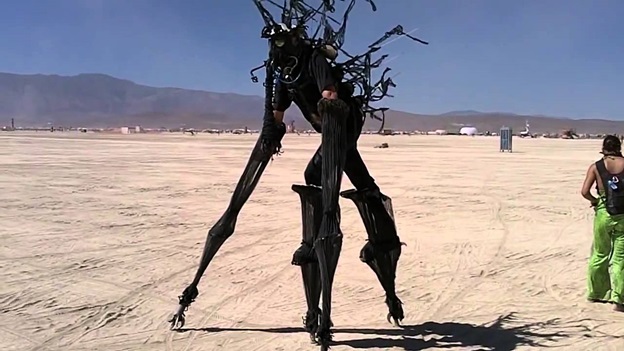 What is it? Gah. Don't know. I admire the ingenuity, but I also would stay the hell out of this thing's way. I think it wants to eat your face.
#5  Night costumes!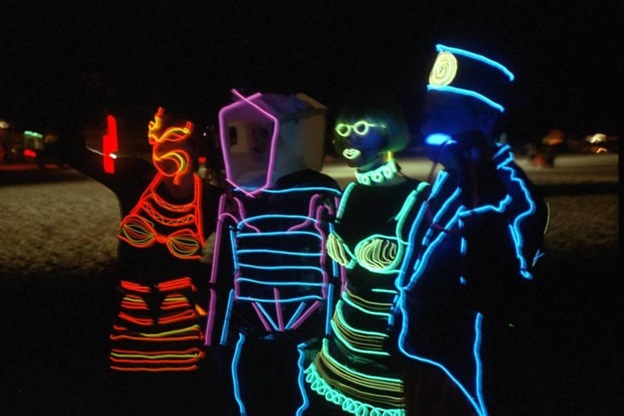 These colored phosphorous wires are all the rage in lighting shit up. It gets real dark out on the playa. These tubes can be used for personal costumes (as illustrated above) or outlining some of the more majestic art pieces scattered around the desert. While electroluminescent wire has been around since 1936, it first appeared at Burning Man around 2000. It has only grown in popularity since then. In fact, Burning Man at night now resembles a circus with the colored lights, homemade rides, and wild music.
#6 What the hell is this guy exactly? Don't know. Don't care.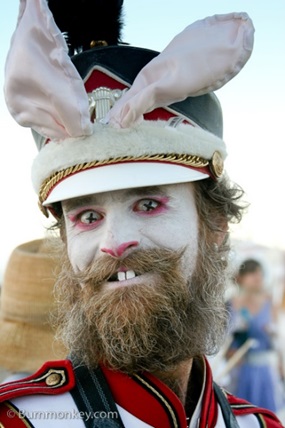 The great thing about Burning Man costumes is that you don't have to conform to one single costume at a time. This photo, taken by professional photographer Phil Steele, illustrates that you can show up as a marching band zombie bunny and fit in just fine. Allow your imagination to create as many possibilities as you can wear.
#7 Clearly, this individual is um…he is….he's…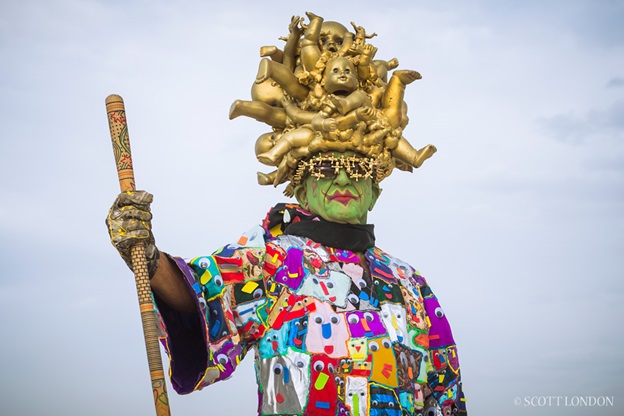 Well, "balls-out cray cray" comes to mind. With a throne assembled of miscellaneous doll parts, and a technicolor coat covered in googly eyes, this gent could be one of the four horsemen of the gay apocalypse. How fabulous does your mind have to be to dream up this absurdity? Aren't you just a tiny bit jealous of the guy who thinks to himself, "You know what's wrong with this head piece? There simply aren't enough doll legs glued on." Go get 'em, Tiger.
#8 We're gonna pump *fist-pound*  you up!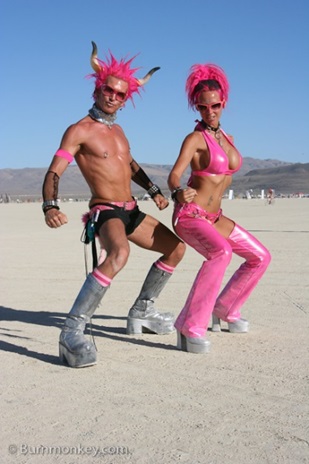 When you've got a great body, why not show it off to full advantage? These burners decided to look incredibly sexy while slowly roasting to death under the desert sun. Check out his awesome go-go boots. If you got the body to pull off a look like these two are managing, Burning Man is the place to flaunt it. (Another photograph by professional Phil Steele.)
#9 Feather goddess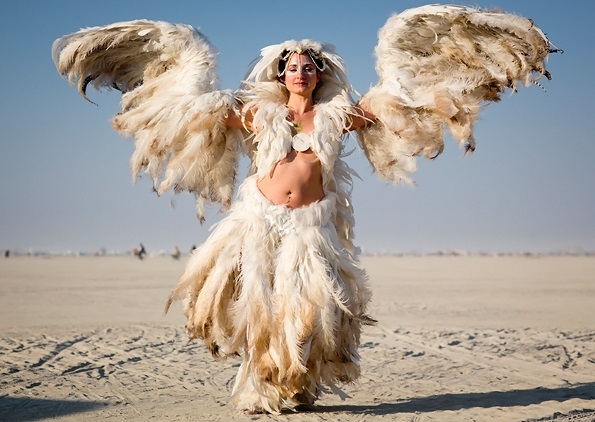 I bet she was a chubby, unattractive girl in her youth. And despite growing into a lovely woman, she has always felt like that chubby, unattractive girl on the inside, until Burning Man gave her a place to show the world just how gorgeous and goddess-like she truly is. Okay, I made up her backstory, but when you look at the loving attention that's gone into a costume like this, the effort and commitment to beauty, it's not hard to imagine her creating this so she can walk around—no, strut around—feeling gorgeous inside and out. Burning Man costumes invite you to bring out your best, your weirdest, your most glorious self.
#10 The spirit of the Man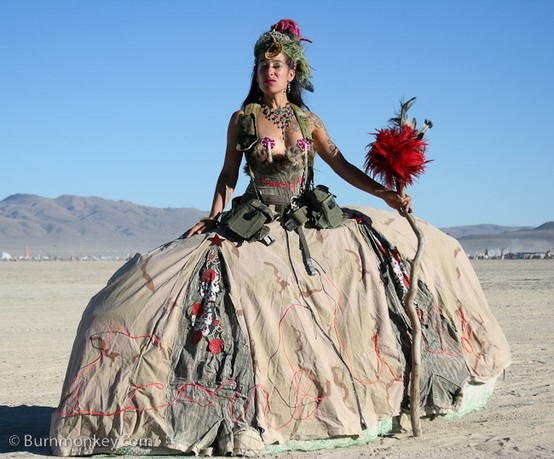 When Burning Man moved to the Black Rock desert in 1999, the San Francisco Cacophony Society showed up in costume. They wore some hybrids of tuxedos and prom dresses to "happy hour" each evening in the desert. Since then, costumes have always played an important role in the culture. You don't dress to impress others. You dress to impress yourself. You dress to believe in your own beauty, your own wild imagination, your own beautiful sexuality, if that's what you want to celebrate.
Look at this Victorian, desert lady, photographed by Phil Steele, who gave me permission to use his lovely photos. Camo water side bags as her jewelry. She is badass. She is ready to survive in the desert, and be gorgeous doing it. She's the radical self-expression and radical self-reliance that is Burning Man. Feathers, celebrating your assets, a beauty geared toward survival. I like this photo a lot. She speaks to me.
Outside of Burning Man, we need people like Vanessa North to change their hair color from bright purple to peacock blue, and then shave their heads, because that kind of radical fashion reminds all of us that we get to be beautiful, too.
* * * * *
Edmond Manning is the author of the romance series, The Lost and Founds. The books in this series include King Perry, King Mai (a 2014 Lambda Literary finalist), The Butterfly King, and King John. King John takes place at Burning Man.
* * * * *
Where to get your copy of King John:
eBook:     King John Kindle edition
Print:     King John paperback
* * * * *
About King John:
English attorney Alistair Robertson can't quite believe an astonishing tale of kingship and transformation he hears at Burning Man, the annual counter-culture art festival in the Black Rock desert. Who are the Found Kings? Is "being kinged" as magical as it sounds?
Determined to find the mysterious garage mechanic named Vin who helps men "remember who they were always meant to be," Alistair catches his quarry amid the extravagant sculptures, fire worshipers, mutant cars, and lavish costumes. After searching for three years, he'll finally get to ask the question burning inside him: "Will you king me?"
Wandering together through the desert, Vin Vanbly and Alistair explore Burning Man's gifting culture and exotic traditions, where they meet the best and worst of their fellow burners. Alistair's overconfidence in Vin's manipulative power collides with Vin's obsessive need to save a sixteen-year-old runaway from a nightmarish fate, and the two men spiral in uncontrollable, explosive directions.
In this fourth adventure of The Lost and Founds, beneath the sweltering summer sun and the six billion midnight stars, one truth emerges, searing itself on their hearts: in the desert, everything burns.
* * * * *
* * * * *
King John Blog Tour:
Mon, Sept 7                    My Fiction Nook
Mon, Sept 7                    AJ Rose Books             pre-release excerpt #1
Tues, Sept 8                    Thorny, Not Prickly     pre-release excerpt #2
Wed, Sept 9                    Love Out Loud             pre-release excerpt #3
Fri, Sept 11                     Reviews by Amos Lassen
Sat, Sept 12                    Vanessa North.com
Tues, Sept 15                  MM Good Book Reviews
Wed, Sept 16                  The Novel Approach
Thurs, Sept 17                Purple Rose Tea House
Fri, Sept 18                     Posy Roberts.com
Sat, Sept 19                    Zipper Rippers
Tues, Sept 22                  Joyfully Jay
Wed, Sept 23                  Boys In Our Books
Thurs, Sept 24                It's About the Book
Fri, Sept 25                     Lou Harper.com
Sat, Sept 26                    Love Bytes Reviews
Sun, Sept 27                   Sinfully Addicted to Male Romance
Mon, Sept 28                  Josephine Myles.com
Tues, Sept 29                  Molly Lolly
Wed, Sept 30                  Coffee and Porn in the Morning
Wed, Sept 30                  Stumbling Over Chaos
Thurs, Oct 1                   The Blogger Girls Reviews
Sat, Oct 3                       On Top Down Under Reviews
Sun, Oct 4                       The Hat Party!
Fri, Oct 2                        Jessewave
Mon, Oct 5                     Prism Book Alliance
Tues, Oct 6                     Jaycee Edward.com
Wed, Oct 7                     Hearts on Fire Book Reviews